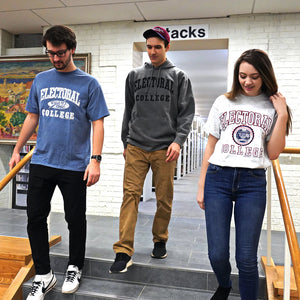 Welcome to America's Original Party School!™
At Electoral College Sportswear and Accessories, we sell unique, top quality T-shirts (5 Styles), sweatshirts, golf shirts, caps and gifts for those who take politics seriously--but not too seriously!
Go to the Shop to purchase your own collegiate sportswear from America's Most Selective Four-Year Institution! We offer free priority-mail shipping.
While you shop, take a peek in our Lecture Hall to learn what the other Electoral College is all about.
Follow Us On Facebook
"Facts of Life" Music Video
Watch this classic School House Rock-style music video in which a dad explains the Electoral College "facts of life" to his son!